Welcome to Brendan Chaplin Strength and Fitness.
If you are a fitness enthusiast or fitness professional make sure you get your free ebook which you can access in the box below. Otherwise enjoy the site, read the articles, and let me know what you think.
Are you a fitness enthusiast?
Looking for fresh ideas to improve your training?
Recover from injury?
Achieve your strength, fat loss and performance goals?
Get that extra edge in your training?
Sign up below to receive the LEAN REPORT, an 18 page guide to help you achieve your goals
Are you a fitness professional?
Looking to develop your practical skills, knowledge base, coaching expertise and network?
If so sign up to our education newsletter and receive exclusive discounts on courses, workshops and seminars AS WELL AS my FREE 22 page ebook on 'Getting into the Industry'.
So I have another mini-announcment to make today which is that in addition to the VERN GAMBETTA Speed to the Max course on November I am also really pleased to announce that Duncan French will be delivering his Current Trends in Strength and Power REVAMPED workshop on the 5th October at Leeds Met.
Duncan is a true professional and always delivers top notch content, as you can find out for yourself in his MOVEMENT TRAINING VIDEO SERIES. You can expect an awesome learning experience from him this time around when he presents his Current Trends in Strength and power material.
The content will include but is not limited to the following areas:
 - Current research and application on periodisation and planning for strength and power
- Power development key considerations and current research
- Hypertrophy key considerations and current research
- Application of strength and power training within high performance environments such as Premiership football and olympic sports. 
- Training for strength considerations including basic, intermediate and advanced methods both theory and application. Some of these methods include but are not limited to:
- Cluster training theory and application
- Occlusion training theory and application
- Complex training and post activation potentiation (PAP)
Check out ALL the details for the workshop HERE.
Don't forget to check out Vern's 2 Day course here too! If you would like to see Vern's last seminar BUILDING THE COMPLETE ATHLETE check out the info HERE.
Thanks,
Brendan
Yes it's been a while coming (I've been talking about this 'BIG' announcement for some time) but finally got things sorted. This is the first of 2 BIG announcements coming in the next couple of weeks.
Vern Gambetta will be presenting his SPEED TO THE MAX course, November 2nd and 3rd at Leeds Met and will be covering all aspects of speed development and athlete development.
You can find out ALL the details about the workshop at the link below:
VERN GAMBETTA SPEED TO THE MAX
Needless to say this will be an awesome learning opportunity for people.
It's going to be  a fantastic weekend.
Check out the info at VERN GAMBETTA SPEED TO THE MAX. At the bottom of this blog is the list of specific modules Vern will be covering on the weekend. Have a read to see what you'll be learning about!
Cheers
Brendan
PS: If you missed the Building the Complete Athlete Seminar last year with Vern you can check out the videos from that weekend HERE
Check out the specific modules Vern will be covering (There's a LOT of content so be prepared!)
Introduction – The concept of Sport Specific Speed and an in depth look at developing sprinters and speed in general.
Biomechanics of Speed: The key concepts that are required in coaching. Learn all about ground reaction forces, contact times, horizontal versus vertical force production and gain a greater understanding of the sprint model in this model.
Posture, Arm Action, Leg Action (PAL) Paradigm, progressions and regressions to get the best from your athletes. This fundamental coaching sequence will be explained in depth. Vern will show his unique application of the system that has led to elite sprinters and multi sport athletes setting personal beasts for over 40 years.
Designing your sprint session: Including functional warm-up progressions leading into speed mechanics. Putting together the session is a key part of the process of actually getting faster! In this section of the workshop Vern will show how to ensure your athletes are ready to train for speed and then how to progress the speed session to get the most from them at all times.
The Mechanics of Speed: This module covers starting and acceleration mechanics, absolute speed, optimum stride length and frequency. You'll learn what you should be looking for in your coaching, how to utilise video to provide effective feedback and how to time your coaching interventions to ensure your athletes gain the understanding and learning that you want from them.
Multi-Directional Speed and Agility: This module covers the transfer of straight line speed to sports requiring agility and multi-directional movement mechanics. Learn how to take you athletes to the next level when it comes to changing direction.
Analysis and Evaluation of Speed: How do you know when your improving? This module will teach you simple tests and give you simple tools to evaluate performance gains, along with more in depth analysis of the sprinting mechanics so you know exactly WHERE to make the changes that are required for improvements.
Strength Training for Speed: Learn about how to get your athletes functionally strong, dynamic and explosive using Verns strength and power training principles that have developed performance athletes for over 40 years.
Programming for Speed: Learn all about how to design speed, strength, and performance programmes that will bring the best out of your athletes all year round. Learn about WHEN to emphasise strength and work capacity, when to train for absolute speed, how to build robust athletes and keep people injury free.
Plyometrics, mobility and flexibility training: Learn how these 3 tools can be applied to build serious speed and athletisicm in your athletes. How to coach, programme, progress and regress to suit the population or individual you work with.
The difference that makes the difference.
This is a phrase from a recent course I attended. A coaching course in a sense, leadership definitely, but certainly not sports coaching or S&C.
The coaches/trainers used this phrase when discussing interventions and how to prioritise.
What is the difference that makes the REAL difference.
In coaching there are so many things that you can change.
In programme design, so many variables that can be altered.
Sets and reps is just the start of things. Think tempo, exercise choice, rest time, complexity, fatigue, volume and much, much more.
In coaching think about your approach. Your instructions, too little, too much, your output versus athlete input into the session. Your behaviour, is it conducive to high performance or the populations you work with? Have you considered it?
What about the athlete? Think about their intent, focus, their motivation, their understanding of the task, their consistency and commitment to training, and buy-in to the process.
Then you have the environment as well. The culture in place, the people in that environment (similar to culture), the facilities, the surroundings. The inspiration. This is SO important.
And of course the goal. THE most important part. What is the change or changes we are seeking, and by when.
Is the development going to come from changes to the programme, the coaching, the environment, the athlete. Or a combination of all these factors.
Everything affects everything.
But what makes the BIGGEST difference?
Of all those things you can change, what is the difference that makes the difference?
Thats the one that needs to be addressed. 
It's worth thinking carefully about this one.
Cheers as always,
Let me know your thoughts,
BC
Hi there folks. Today we have a brand new athletic development podcast with myself and coach Nick Grantham on the line discussing all things mobility and flexibility.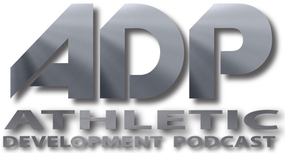 Specifically:
What are we looking to achieve with this training?
How to develop mobility?
How does it fit into the overall programme?
Stretching essential information.
And much, much more.
Check out the podcast and let us know your thoughts by leaving a comment, tweet or facebook message.
Just a quick one to let you know that this week I have some new workshops going LIVE for the September- December term. Some big news in there too so I'm looking forward to sharing it with you.
Cheers,
Brendan
PS For my latest Designing Resistance Training Programmes AND Dan Baker Power Training webinar package check out THIS Link, both are on a VERY good offer for the itme being!
Firstly I hope this update finds you well and enjoying success in your coaching and training.
If you missed this weeks blog posts make sure you check out the latest Strength and Fitness TV episode with Judo player Lois Brown performing a metabolic circuit designed to build work capacity, aerobic capacity and maintain mobility and movement quality.
Also yesterday I put out a really top interview with success coach Richard Nugent on Building for Success. It's a 30 minute interview covering building a great brand, traits of high performance people and much much more. Richard is a top guy an expert in this area. This interview also marks the launch of a new podcast series titled 'Productivity Podcast'. It's going to be focussed on development, mindset and much more. Make sure you check it out.
Okay on to the matters for today.
Firstly there are a couple of places available on the 3 Day Accelerated Development Programme that's running 14-16 June in Leeds.
This is an awesome learning opportunity that also carries a level 3 coaching certificate in Strength and Conditioning on successful completion of the course.
Over the 3 days you'll be taught be myself for the screening, strength, power and periodisation, Jared Deacon on the speed side of things, Ian Pyper does the endurance component, Tom Whittaker on the injury reduction and corrective exercise and the man himself Tamas Feher handles all things Olympic Weightlifting. I'm sure you'll agree this is a real top draw line-up and a fantastic learning opportunity.
Everytime we run this course the reviews and testimonials just keep getting better and better, and this one will be no different. I've actually got some new stuff to show on my sections  and I know the other presenters have too.
It's all about coaching. Designed by coaches, for coaches. That's the mantra for the weekend. Along with Learn today apply tomorrow! So everything you are going to learn on the course you can apply on Monday!
Here's what a couple of the recent graduates had to say about the programme:
If you like what you are reading and want to move to the next level check out the details HERE, it WILL sell out so act quickly.
Moving on to the second item of the day. 
INJURIES ARE OPPORTUNITIES WITH BEN ROSENBLATT is running on the 29th of June. Now Ben really is at the top of his game when it comes to developing athleticism around injuries and bringing people back from injuries to full fitness. He is based at the Intensive Rehab Unit in Bisham Abbey as well as working for GB Judo as an S&C coach.
Ben and myself chatted about his upcoming workshop on a recent podcast interview, make sure you check that out regardless. Anyways, the early bird discount is rapidly approaching for this workshop, so don't miss out if you want to be at an event that will make you a better coach in ONE DAY! Ben will be covering rehab progressions for all major joints, screening and assessment, functional anatomy and more.
Check out the details here:
LAST thing for today. I have got 2 MASSIVE ANNOUNCEMENTS to make and one will be NEXT WEEK, the other the week after next.
I CANNOT WAIT to bring these 2 opportunities to you very soon.
Stay tuned!!
Thanks again,
Brendan
This is the first podcast in a new series on Productivity.
I'm going to be talking and interviewing high performance people, coaches who work with high performance people, people who are doing good things in general and talk about what we need to do as coaches and individuals to keep getting better, build a great business, help our athletes and clients to continually improve.
Richard works with some high profile clients including Tescos and Merlin entertainment (Alton Towers and more)
He also works with professional footballers and athletes on the mental side of their game through his consultancy Success in Football.
In this fascinating call we covered the following areas:
What is the Richard Nugent Brand and how does this differentiate from the competition? 21 and success in football?
How does work in sport versus business differ and are there any common principles that can be applied?
What challenges does he face in his clients and how he overcomes those challenges
What advice would he give to up and coming business owners/entrepreneurs looking to build a personal or business brand
What are the Common Traits for success in high performance people?
Where can people find him and read more about his work
Listen to the interview below or subscribe on ITunes. If you do subscribe through ITunes I would really appreciate it if you could write me a review on the podcasts in general. This year I've put out the Athletic Development Podcast with Nick Grantham, the Ask Brendan series and now the productivity podcast series too. Some cool stuff I hope you'll agree. It always helps me if people write good reviews and I'd be really appreciative if you could take a coupe of minutes or so to write one.
All you have to do is click on the link HERE and it will take you to ITunes. Then go to ratings and reviews and just fill in the box there. Or you can send me a short review along with the name you want putting up and 1-5 star rating,  and I can put it in for you.
Okay that's all for today, here's the podcast with Richard:
Thanks again for listening,
BC
12 MONTH MENTORSHIP PROGRAMME FOR SERIOUS COACHES AND ASPIRING COACHES
"You can progress to the next movement when you can lift XXX with perfect technique"
How many times have you heard this said?
I've alluded to it myself previously, I have to say.
But this thought process might be flawed from a couple of angles.
Firstly, is there a perfect way to execute a movement or a skill?
Tiger Woods swings the club in a different way to Jack Nicklaus or Phil Mickelson.
Which is correct?
Chinese weightlifting emphasise different key points to westerners.
Which is correct?
Here's the second angle: should we expect the same quality of movement from athletes from different sports?
Should our tolerance of movement issues be the same?
Let's take gymnastics versus Rugby League.
Two sports at very different ends of the spectrum in terms of preparation.
How do the sports work? Both need high levels of force, speed and power of course.
One you win by control, balance, beauty, execution of technique which is judged on those conditions (and more)
The other you win by force, speed, collision, teamwork in a chaotic environment, a physical battle.
As coaches we need to replicate these environments to prepare our athletes in the right way.
So do we really want the movements to be performed the same way?
Do we expect the same technical execution of the movements we prescribe?
Well of course the exercise selection should be individual and specific and the environments will be very different.
For me all athletes need some chaos in the gym, we need challenges that are not going to be done perfectly. Learning occurs, and changes occur in these scenarios.
Don't get me wrong, we no that loading an individual with poor movement mechanics is not a good idea. I'm not advocating that.
We have key things to look for in our movements to make them safe and productive. Fundamentals you might call them, with must have factors such as good back position, postural considerations.
Once it's safe, it might wise to load it, it might need more work on the pattern. We might be able to find alternatives while we work on it, for example.
Depends on a lot of factors.
We also know that if we don't train our rugby players/athletes and develop their athleticism they might lose the battle and we haven't done our job. We need to challenge and load our athletes.
So a tolerance needs to exist.
So for example take the lunge exercise. The tolerance we have with say a rugby player in their technique versus a gymnast when they perform a lunge may be very different. Sure the fundamentals, the posture etc need to be there for both athletes, but within that we might allow the rugby player more slack. Their sport is about chaos. We need to get work completed to prepare them, from a time perspective we're usually up against it, from a prevention perspective it's negligent if we don't.
There is a different between very good, and perfect.
One exists and is very achievable, the other doesn't and therefore isn't!
Stop chasing something that's not there. 
Get some training done, some very good training with very good technique.
Get the fundamentals right.
Create the chaos and embrace it.
Watch the athleticism grow.
Thanks for reading, love to know your thoughts on this.
Best,
Brendan
PS Check out my 12 MONTH COACHING MENTORSHIP if you're looking to develop as an S&C profession or open your own facility/build a business.
PPS The two webinars I did last week are available NOW. Designing resistance training programmes you can check out HERE and Dan Baker Power Training you can get hold of that HERE.
OR you can grab both for a very special price HERE.
Here's two testimonials that have come in this week for the
Collision Sports Strength and Conditioning Video Collection
which is available at the early bird price ENDING TODAY!
Having just started working with rugby union academy players listening to Simon gave a good glimpse into high performance culture for adolescent athletes.
His game based approach to conditioning was dfferent to the norm and is sure to keep your players interested whilst giving them a similar training effect. 
Josh Darrall Jones MSc ASCC S&C Coach Leeds Carnegie Rugby
"Having working with in rugby league for a number of years I took the chance to refresh my knowledge and booked on to Brendan Chaplins collision sport strength & conditioning, presented by Simon Worsnop. The day was jam packed with great information, drills and monitoring tips. I would certainly recommend this workshop to anyone looking to move into or who is already participating in strength and conditioning in any collision sport. A great day highly recommended!
Dean Fouache S&C Coach South Wales Scorpions, Core Conditioning
Grab yourself a copy of the 5 videos at the early bird price of just £47 before it goes up to he full price of £67 TOMORROW!